Download complete list of publications
Peters, H. P. (2023).
Public engagement as rhetoric, persuasion as practice.
Mètode Science Studies Journal, 14, 5.
doi:10.7203/metode.13.26011
Peters, H. P. (2023).
Sharon Dunwoody's legacy. Three timely lessons for us.
Science Communication, first published online January 16, 2023.
doi:10.1177/10755470221149438
Peters, H. P. (2022).
The role of organizations in the public communication of science. Early research, recent studies, and open questions.
Studies in Communication Sciences, 22(3), 551–558.
doi:10.24434/j.scoms.2022.03.3994
Peters, H. P. (2021).
Scientists as public experts. Expectations and responsibilities.
In M. Bucchi & B. Trench (Eds.), Routledge Handbook of Public Communication of Science and Technology (3rd ed., pp. 114-128). London: Routledge.
Peters, H. P., Lehmkuhl, M., & Fähnrich, B. (2020).
Germany: Continuity and change marked by a turbulent history.
In T. Gascoigne et al. (Eds.), Communicating Science. A Global Perspective (pp. 317-350). Acton, AU: ANU Press.
doi:10.22459/CS.2020.14
Peters, H. P. (2020).
科學傳播的範疇:是知識散播還是公民參與?[Science Communication: Knowledge Dissemination or Public Engagement?].
Journal of Communication Research and Practice, 10(1), 1-18.
doi:10.6123/JCRP.202001_10(1).0001
[Download]
Lo, Y.-Y., Huang, C. J., & Peters, H. P. (2019).
Do organizational interests interfere with public communication of science? An explorative study of public relations of scientific organizations in Taiwan.
East Asian Science, Technology and Society: An International Journal, 13(4), 557-574.
doi:10.1215/18752160-8005617
Peters, H. P. (2019).
WissenschaftlerInnen als Kommunikatoren.
In B. Fähnrich, J. Metag, S. Post, & M. S. Schäfer (Eds.), Forschungsfeld Hochschulkommunikation (pp. 209-225). Wiesbaden: Springer VS.
doi:10.1007/978-3-658-22409-7_10
Görke, A., & Peters, H. P. (2017).
Wider den Immermehrismus. Ein Plädoyer für mehr Gelassenheit im Umgang mit den Herausforderungen der Wissenschaftskommunikation.
Forschung & Lehre, 24(9), 768-769.
[Download]
Peters, H. P., & Dunwoody, S. (2016).
Scientific uncertainty in media content: Introduction to this special issue.
Public Understanding of Science, 25(8), 893-908.
doi:10.1177/0963662516670765
Lehmkuhl, M., & Peters, H. P. (2016).
Constructing (un-)certainty: An exploration of journalistic decision-making in the reporting of neuroscience.
Public Understanding of Science, 25(8), 909-926.
doi:10.1177/0963662516646047
Peters, H. P., Dunwoody, S., Allgaier, J., Lo, Y. Y., & Brossard, D. (2014).
Public communication of science 2.0. Is the communication of science via the "new media" online a genuine transformation or old wine in new bottles?
MBO reports, 15(7), 749-753.
doi:10.15252/embr.201438979
Peters, H. P. (2014).
The two cultures: Scientists and journalists, not an outdated relationship.
Métode Science Studies Journal, 4, 163-169.
doi:10.7203/metode.80.3043
Peters, H. P., Allgaier, J., Dunwoody, S., Lo, Y.-Y., Brossard, D., & Jung, A. (2013).
Medialisierung der Neurowissenschaften: Bedeutung journalistischer Medien für die Wissenschafts-Governance.
In E. Grande, D. Jansen, O. Jarren, A. Rip, U. Schimank, & P. Weingart (Eds.), Neue Governance der Wissenschaft: Reorganisation – externe Anforderungen – Medialisierung (pp. 311-335). Bielefeld: transcript.
Peters, H. P. (2013).
Gap between science and media revisited: Scientists as public communicators. Proceedings of the National Academy of Sciences, 110(Supplement 3), 14102-14109. doi:10.1073/pnas.1212745110
Peters, H. P. (2012).
Scientific sources and the mass media: Forms and consequences of medialization.
In S. Rödder, M. Franzen, & P. Weingart (Eds.), The Sciences' Media Connection – Public Communication and its Repercussions (pp. 217-239). Dordrecht, NL: Springer.
Petersen, I., Heinrichs, H., & Peters, H. P. (2010).
Mass-mediated expertise as informal policy advice.
Science, Technology & Human Values, 35(6), 865-887.
doi:10.1177/0162243909357914
Peters, H. P. (Ed.) (2009).
Medienorientierung biomedizinischer Forscher im internationalen Vergleich. Die Schnittstelle von Wissenschaft & Journalismus und ihre politische Relevanz.
Jülich: Forschungszentrum Jülich.
[urn:nbn:de:0001-00542, Open Access]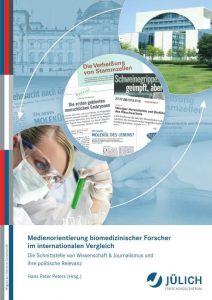 Peters, H. P., Brossard, D., de Cheveigné, S., Dunwoody, S., Kallfass, M., Miller, S., & Tsuchida, S. (2008).
Science communication: Interactions with the mass media.
Science, 321(5886), 204-205.
doi:10.1126/science.1157780
Peters, H. P., Lang, J. T., Sawicka, M., & Hallman, W. K. (2007).
Culture and technological innovation: Impact of institutional trust and appreciation of nature on attitudes towards food biotechnology in the USA and Germany.
International Journal of Public Opinion Research, 19(2), 191-220.
doi:10.1093/Ijpor/Edm004
Peters, H. P., & Heinrichs, H. (2005).
Öffentliche Kommunikation über Klimawandel und Sturmflutrisiken: Bedeutungskonstruktion durch Experten, Journalisten und Bürger.
Jülich: Forschungszentrum Jülich.
[urn:nbn:de:0001-00303, Open Access]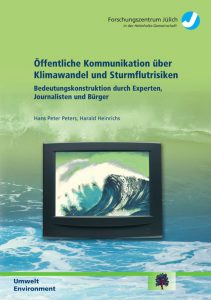 Peters, H. P. (2000).
The committed are hard to persuade. Recipients' thoughts during exposure to newspaper and TV stories on genetic engineering and their effect on attitudes.
New Genetics and Society, 19(3), 365-381.
doi:10.1080/713687608
Peters, H. P. (1995).
The interaction of journalists and scientific experts: Co-operation and conflict between two professional cultures.
Media, Culture & Society, 17(1), 31-48.
doi:10.1177/016344395017001003
Peters, H. P. (1994).
Wissenschaftliche Experten in der öffentlichen Kommunikation über Technik, Umwelt und Risiken.
Kölner Zeitschrift für Soziologie und Sozialpsychologie, 46(special issue 34), 162-190.
Peters, H. P., Albrecht, G., Hennen, L., & Stegelmann, H. U. (1990).
Chernobyl and the nuclear-power issue in West-German public opinion.
Journal of Environmental Psychology, 10(2), 121-134.
doi:10.1016/S0272-4944(05)80123-9